Main information:
Information for people with a handicap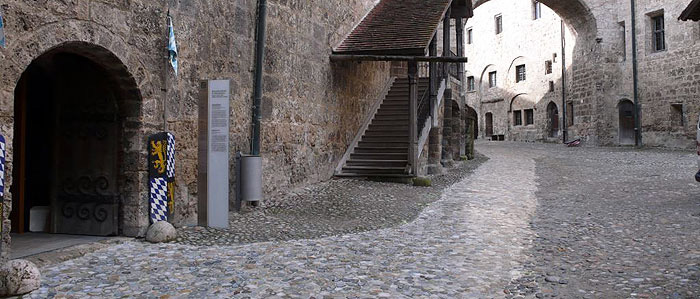 Information for people with mobility impairment
Disabled parking
There are three designated disabled parking spaces at the Curaplatz car park.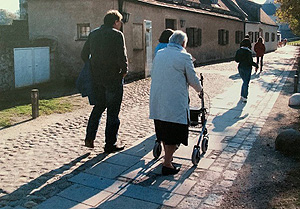 How to get from the car park to the main castle
The distance from Curaplatz to the ticket office in the main castle is about 1 km. The path leads through the five courtyards of the castle; unfortunately, it is not possible to drive into the castle grounds by car.

No steps, only slight inclines

Path surface mostly level (paved gravel / paving slabs)

Barrier-free pathway in the area of the main castle

Seats available
Disabled toilets
At Curaplatz and in the first courtyard next to the kiosk: Accessible with Euro key

In the main castle in the visitor centre (first floor)

Visitor centre in the Knights' Hall (ticket office, museum shop)
Entrance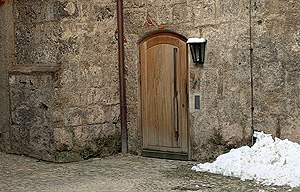 Extra step-free entrance left of the keep
Interior
All important areas accessible without steps via lift (Length: 160 cm, width: 107 cm, door width: 90 cm, )

Doorways at least 85 cm wide

Level, non-slip flooring

Seats available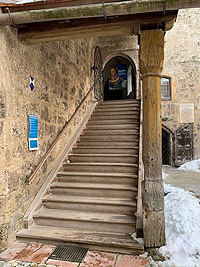 State Castle Museum in the Palas
Entrance
Access only possible via a historic wooden staircase (18 steps). The installation of a passenger lift is not possible for reasons of monument protection.
Interior
No barrier-free tour possible (no lift available)

Doorways at least 80 cm wide

Level, non-slip flooring

Seats available
Outer fortifications
Lower ward: accessible from the first courtyard

Upper ward and outer buildings on the Eggenberg: not accessible
---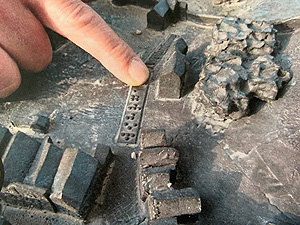 Information for the visually impaired
No guidance system for the visually impaired available

A tactile model at Curaplatz (scale 1:600, size 110 x 190 cm) enables not only visually impaired people to get a better idea of the shapes, structures and dimensions of the castle complex and the old town. Information in Braille and normal script complements the model.
---
Information for the hearing impaired
No induction loop for hearing aids available

Written information available