Main information:
The outer buildings on the Eggenberg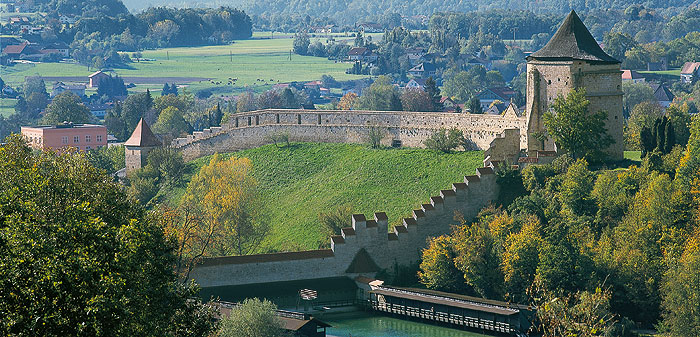 External fortifications with Artillery Tower on the Eggenberg
The main castle's outer fortifications, which incorporate the Eggenberg, were extended to their present dimensions as part of the overall reinforcement of the castle's defences undertaken by Duke Georg der Reiche (Georg the Rich). From the lower ward of the main castle, the defensive walls run down both sides of the steep hill, to the former toll tower on the town side and the lake, the Wöhrsee, on the west side.
By the lake the wall reaches the Mühl- or Wöhrturm (Mill or Wöhr Tower) – this was originally the site of the court mill. The hidden, covered passage, the "haimbliche Gang" or secret passage that accompanies the wall, first on the north side which is protected by the reservoir, is only incompletely preserved. In the middle of the dam by a further tower, the Changierturm, the passage switches to the south side, which offered more protection – beyond the lake -- than the open north side. The secret passage comes to an end on the Eggenberg in the Eggenberg, Geschütz- or Pulverturm, (Artillery or Powder Tower) a round tower flattened on its eastern, inner side.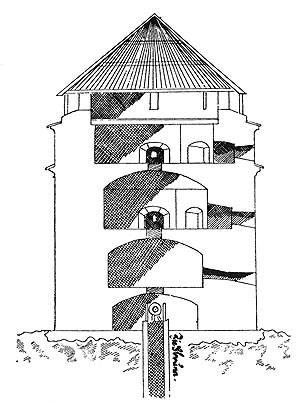 Tower on the Eggenberg, section, c. 1661
This massive tower built under Georg der Reiche evidently succeeded the watchtower used in the period of Ludwig der Reiche to keep a look-out for enemies. The sophisticated defensive installations of this imposing fortification are still in evidence.
The ground floor is faced with tuff ashlars, and has a shallow barrel-vaulted ceiling. A well over 22 metres deep provided the forces manning the tower with their own water supply. Spiral staircases in the approximately five-metre thick walls gave access to the floors above, which were lit only by diagonal embrasures.
From the first floor there was originally a bridge leading to the top of the city wall. On the third floor with its flat beamed ceiling there are four emplacements. Because of the key position of the Eggenberg tower in the castle's defence system, the land in front of it had to be fortified too. Neither these fortifications, which lay to the west of the tower, nor the outer ward of the Eggenberg tower have been preserved.